(ATTN: ADDS details, comments, photo)
SEOUL, Jan. 12 (Yonhap) — After putting together a dominant career in Asia, South Korean reliever Oh Seung-hwan is now taking his talents to the United States.
The St. Louis Cardinals announced their signing of Oh to a one-year deal on Monday (local time). The deal includes a club option for 2017. Financial terms weren't immediately disclosed. But an informed source told Yonhap News Agency that if the club exercises its option for 2017, the deal could be worth up to US$11 million for two years. Oh can make up to $5 million in salary and incentives in his first season, and up to $6 million in salary and incentives in 2017 should he remain with St. Louis.
The right-hander is the all-time leader in saves in the Korea Baseball Organization (KBO) with 277, all of them in nine seasons with the Samsung Lions, and he picked up 80 more saves with the Hanshin Tigers in the Central League of Japan's Nippon Professional Baseball (NPB) over the past two seasons. The 33-year-old became a free agent after the 2015 season.
Oh becomes the third South Korean to sign a Major League Baseball (MLB) deal this offseason after Park Byung-ho of the Minnesota Twins and Kim Hyun-soo of the Baltimore Orioles. Park and Kim both jumped from the KBO.
Last season, two South Koreans, Choo Shin-soo of the Texas Rangers and Kang Jung-ho of the Pittsburgh Pirates, saw major league action, while Los Angeles Dodgers left-hander Ryu Hyun-jin missed the entire season because of a shoulder injury.
Oh is also the fourth South Korean pitcher to go from the KBO to NPB and finally to MLB.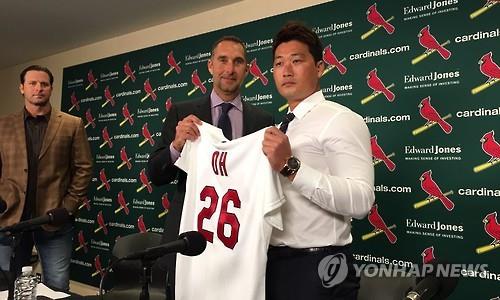 Read the full story: http://english.yonhapnews.co.kr/culturesports/2016/01/12/4/0702000000AEN20160112000851315F.html